Preferences of Gunner Decoys

Gunners are carved from several types of woods which typically are Northern Juniper, Western Spruce Pine, Northern Bass, and Tropical Light Mahogany. Sometimes a mix of these woods is used on one bird depending on the use of the decoy. Two or three and sometimes four pieces of wood may be joined together to achieve the thickness needed for that particular bird. The Gunner Decoys are almost always made hollow which relieves stress on the wood and creates a much lighter bird.

After the carving is completed, the birds are sealed with a sealing base and primed with Gesso. Oil and acrylic paints are both used individually and sometimes partnered to create the effect wanted for each individual area of the bird. Gunners are sealed with two and three coats of varnish and/or polyurethane. A line attachment and balance weight is attached at the correct place for proper floating and self-righting. These birds are made for the discriminating hunter; however, you will find them on the shelves of most serious collectors.

Cut-String Decoys
From my own personal gunning rig. These decoys have been hunted over for the past several years. Contact me for selection and availability.
Every year I leave the lines on the decoys I've actually hunted over. During the next year I designate a few decoys from this shooting rig to be sold. The anchor weight is cut off leaving only six inches of string attached to the decoy; thus as the name implies "Cut-String." These select birds are available only from me and not from any gallery.
The number of decoys allotted to this purpose is only about six to ten each year. These decoys should become collector items very quickly.
I do not recommend removing these strings as they have significant collectable value. Enjoy your birds as they are hand-made one-at-a-time the old fashioned way.

Good luck and happy hunting!

2017 Cut-String Rig
2016 Cut-Strings
2015 Cut String Rig
2014 Cut String Rig
2013 Cut-String Rig
Currituck Gunning Decoys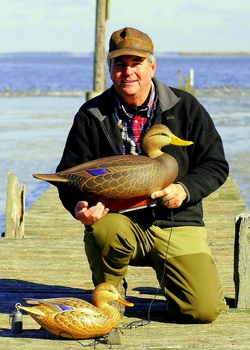 These decoys started from an old idea from many years ago, the bigger the better. This came into understanding duck hunting one day on Currituck sound with my best friend Jack Cox. The decoys I just spent months working on, where now floating around our brush blind and my first comment was " you can hardly see those decoys" on this grand open water, so came the thought bigger has to be better. Back home on the carving bench I had an ole goose body and at that point decided a duck head on this big ole goose body would be perfect for my Currituck hunt rig. So came into the flock the Currituck gunning rig. A few of these birds have made it into some of the best collectors hands in America. Few of these decoys come up for sale, but please keep them in mind for those special purchases. Good luck. Pictured here is my first Black Duck carved for Currituck Sound.
---
Contact Ben email: ben@benheinemann.com phone 919-219-3545