For Pricing Click the Decoys For Sale Tab
​Welcome To My World
The Most Recognized Name in Contemporary Decoy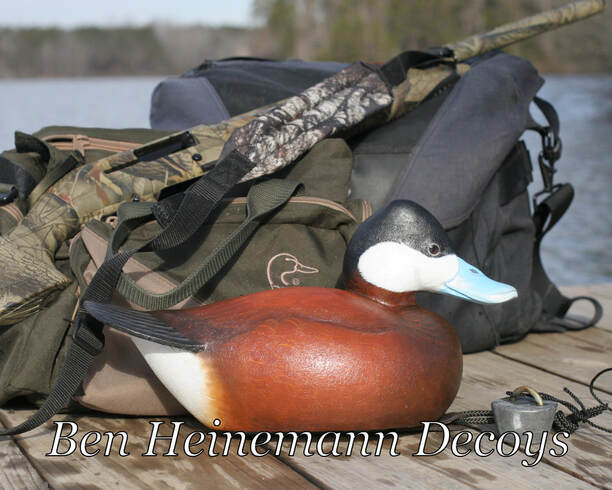 2020 Cut String Rig
click-on "Decoys For-Sale" ​Tab
​For all currently available decoys
Upcoming Decoy Venues I will be participating and Displaying
Minneapolis Wildlife Show Bloomington MN 2nd Sat. February 2022
Ohio Decoy Collector Show Strongsville OH March 2022
North American Decoy Collectors Assoc. Lombard IL The Westin Inn SEPT. 2021
ST. Michaels MD St. Michaels INN April 2021 Oct. 21
Core Sound Decoy Festival Harkers Island NC 1st Sat. December 2021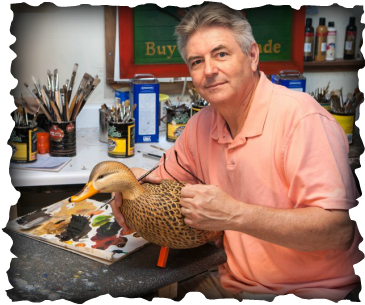 Welcome…to my new and improved web-site!

My desire, in designing this site, was to create a fast and easy way for my guests and customers to view the entire spectrum of my latest decoy carvings, as soon as they are created. Explore, enjoy and thank you for visiting my site.
For those of you who are visiting for the first time, may I take a moment to introduce myself?

In 1969, I became interested in decoy carving while pursuing my first passion of duck hunting on the Sangamon River in Illinois.

I quickly became infatuated with the art and realized I possessed a talent for carving and painting waterfowl. After many years of study, practice, trial and error and successful competitions, I decided it was time to turn my obsessive hobby into a career.

In 1978, I became a full-time professional carver and have never looked back.

For 32 years I have been blessed with being able to make a living doing what I love.

This love for waterfowl, other birds and nature is evident in each and every piece.

As a result, my work has been collected by foreign dignitaries, movie personalities, and art collectors from around the world.
Hand-selected bass, juniper, and Northern Maine cedar is used to create the lifelike carvings.

Each is then personally hand-painted.

My specialty is in the area custom hand-painted decoys in oils and acrylic textures. My collecting customers particularly value

my painting

style.

As one collector stated, "It can be detected from across the arena."
If you are not familiar with my decoy sculptures and your first contact with me is online: I would be delighted to hear from you.

Please let me know what your needs and questions are, I will be more than happy to help.

Prices will not be quoted via email, phone or mail quotes only. Commissions gladly accepted with signed contract and deposit. You can reach me at 919 219 3545 or contact me at my e-mail address:

ben@benheinemann.com
I look forward to hearing from you and thank you again for your interest.
---
Ben A. Heinemann Biography
A childhood fascination with waterfowl and his first trips to an uncle's duck blind inspired artist Ben A. Heinemann to carve his first bird in 1971. Ben carved and painted in those early years for his own pleasure. Maintaining a rig of 75-100 decoys which required painting almost every fall was his first introduction to his decoy career.

Heinemann entered his first decoy competition in Davenport , Iowa in 1977. This was the only time he would compete as an intermediate carver as the following year he would find himself in the "world class" professional level. Since his bird carving career began Ben has gained international recognition for his detail and accurate renditions of wildfowl carvings.

Ben studied mortuary science at the Worsham College of Chicago, Illinois and acquired an Honors Bachelor of Science degree in 1975. During this mortuary internship in Decatur , Illinois he was able to spend numerous hours hunting and studying waterfowl from his uncles' duck blind. This period of time attributed to his attraction to decoys and the inauguration of his carving success.

In 1978 his innovative carving of a Canadian Goose was judged "Best in World" goose competition; beginning a string of five goose "Worlds Championship" First Place titles. In 1990 Ben was awarded Third Place in the Worlds Championship Pairs Wildfowl category with his full size scale carving pair of American Northern Shovelar. Many other awards include "Best of Shows" and numerous achievement recognitions from the Backbay Virginia Carving Competition in Virginia Beach, the East Carolina Wildfowl Competition in Washington, NC, the North American Wildfowl Carving Competition in Detroit, the Core Sound Decoy Waterfowl Festival in Harker's Island, NC, the California Open Carving Competition in San Diego, and the Davenport Wood Carvers Competition in Davenport, Iowa.

Work by Ben A. Heinemann can be found in the Core Sound Museum of Wildfowl Art, Harker's Island , North Carolina and many private collections. Back Bay Wildfowl Museum , Virginia Beach, Virginia featured Bens work in 1984. In 1994 Ben was featured by the Herald Sun Newspaper, Durham , NC "Artist of the Year". A pair of his wood ducks was proudly displayed on the front of the 'Wildlife in North Carolina ' magazine in 1987 .

Over the years Ben has taught seminars and work shops and is frequently asked to judge competitions across the country. Although competitions have provided some of the inspiration for Ben's work , his concern is to perpetuate the tradition of waterfowl decoy sculpture as the true American art form. Ben currently resides with his wife Karen in Durham , NC . He has two children; Ben Justin and Katherine Lee.
Contact Ben email: ben@benheinemann.com phone: 919 219 3545